Stay in one of these fantastic English country properties.
While visiting Great Britain, you may be dreaming up images of countryside and games of croquet on the lawn.
If that is your idea of paradise then see these quintessential English Country homes that are available to rent.
These homes offer the maximum in luxury accommodation and amenities while giving you the whole English Country Manor home experience.
Most beautiful English country properties
Known as "The most beautiful house in Suffolk" this 10-bedroom, eight-bath house really lives up to its name. Situated on over 100 acres of beautiful countryside, this sprawling mansion is less than two hours outside London by train. A "Grade 1 Listed" Georgian country house, this Airbnb includes a large swimming pool, a tennis court, an Orangerie, two lakes.
For those who enjoy traditional English athletic pursuits, you can kayak, horse ride, bird watching, target shoot, and hunt. You also have access to a private butler, a library with books in several different languages and of course, Wi-Fi.
Of course, if you're used to taking care of things yourself there's a dishwasher, washing machine, and even an iron. For an additional fee, airport and train transfers can be arranged as can day trips from the property. Even massages and beauty treatments can be "sorted out" as the English say.
The grand staircase in the entrance hall is like something out of a Jane Austen novel.
Lovely English yellow, blues, and pinks are all used to great effect here. There is a "Buddha Room" as well as a "Phoenix room".
Traditional decorating elements like duck decoys, hand-painted wallpaper, and Chinoiserie are on display here.
Gothic Church Conversion – unique English country properties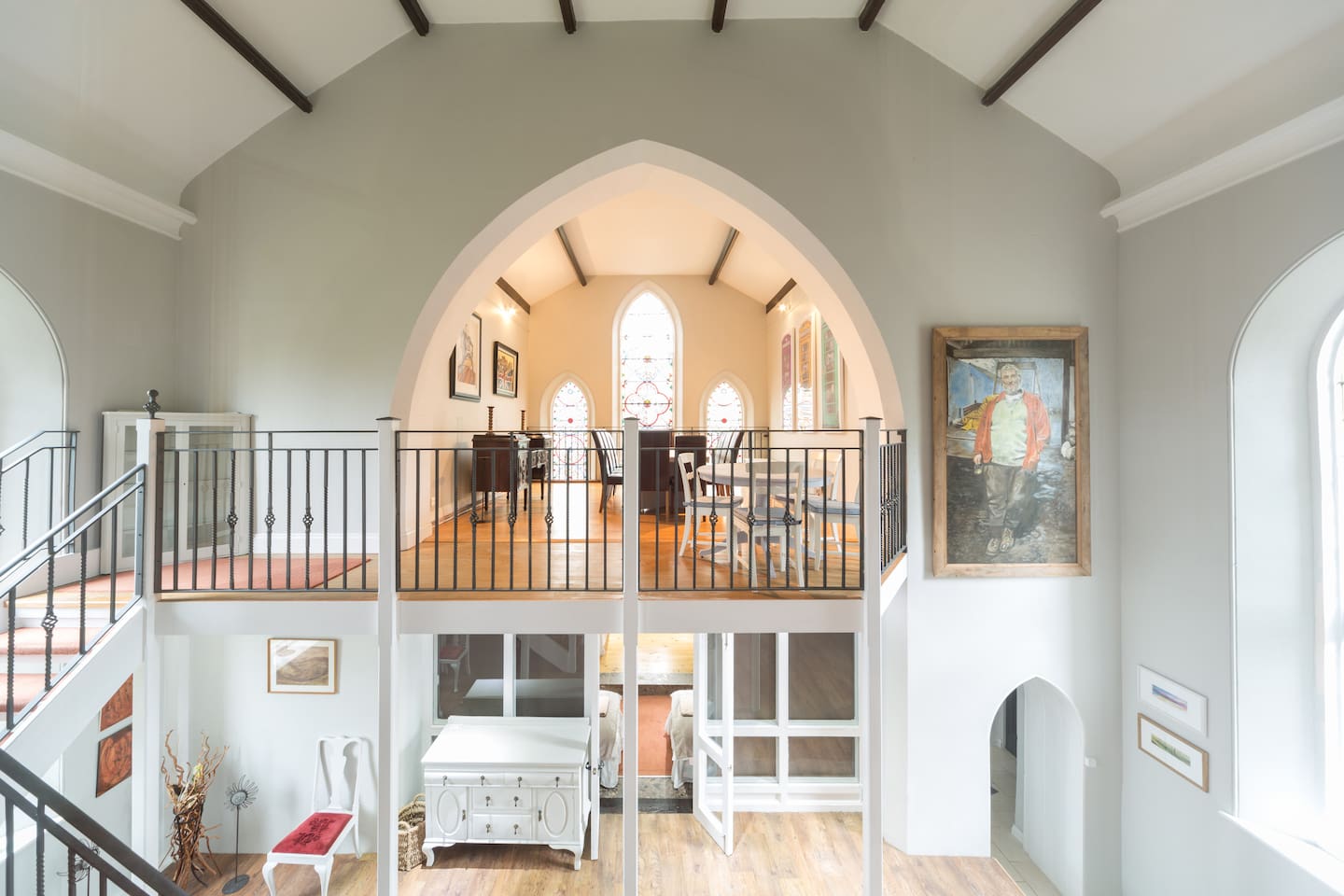 Consider us converts! As a converted it Gothic church this six-bedroom Airbnb might be the perfect place to hold your wedding!
Situated in the town of Wells in Somerset, this unique home dates from 1838, sleeps 17.
You might even remember Wells, Britain's smallest city, from "The Golden Age," Kate Blanchett's movie about Queen Elizabeth I.
This Victorian church sits just three miles from where the Glastonbury music festival is held.
Whatever you use it for, the sweeping staircase in the double-height entrance hall is a perfect place to take pictures.
The former altar area is now a glass-enclosed bedroom. The "Banqueting Gallery," in particular has extraordinary stained-glass windows and seats up to 20 people at its table comfortably.
There's even a hot tub here, something we're guessing didn't exist in this English country properties original state. At certain times of the year, the host of this extraordinary Airbnb offers up to 25% off so schedule carefully!
Georgian Lakeside Mansion – Grade 2 listed English country properties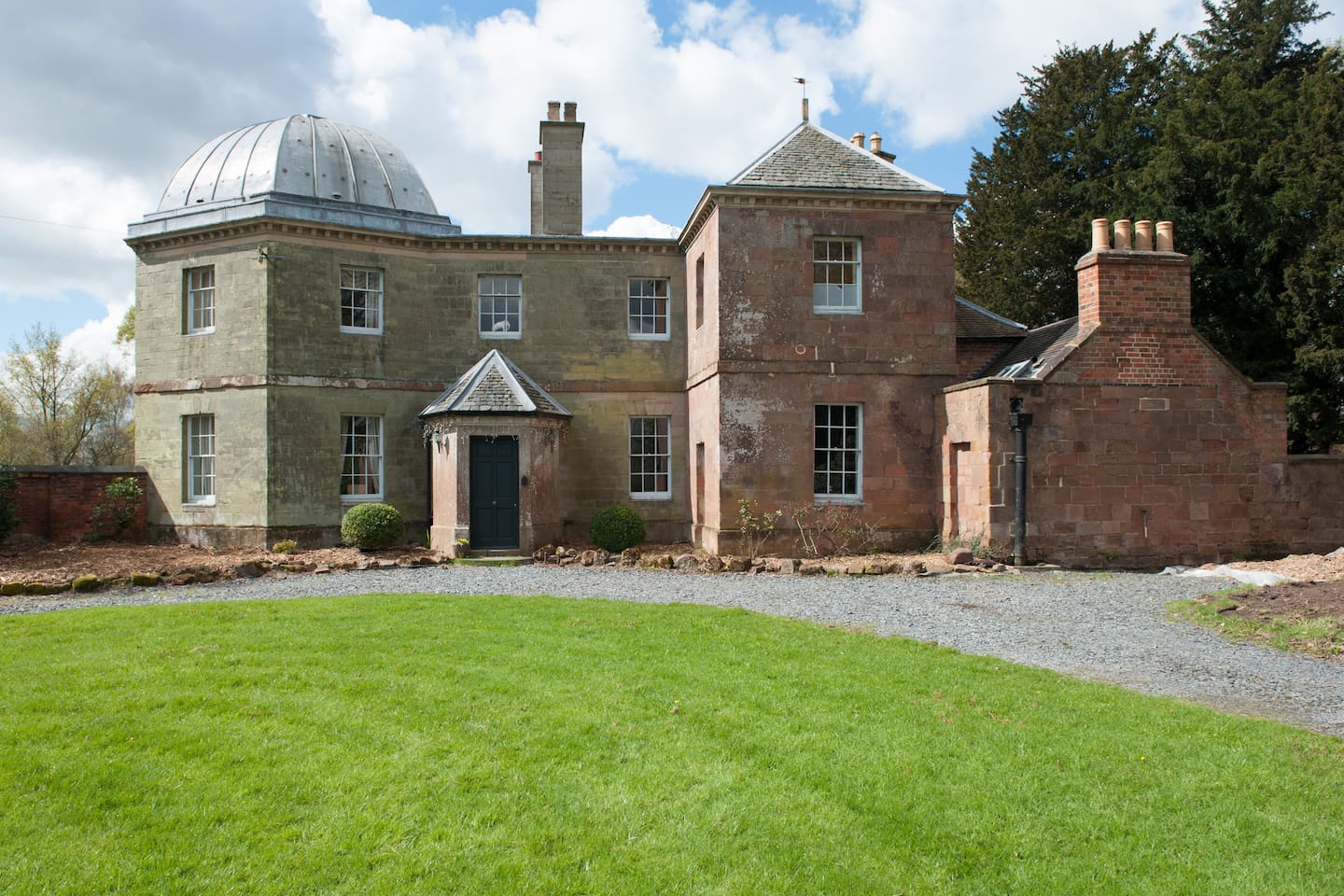 Hang onto your fascinators because when you find out about the pedigree of this Airbnb you might flip your top! 250 years old, this incredible English country mansion is a replica of the menagerie built for Marie Antoinette at Versailles.
Situated on 10 private acres this house has features we can promise you you won't find in most Airbnbs.
A "Grade 2" listed property, this five-bedroom Airbnb sits on 500 acres of parkland. The grounds were laid out by famed architect "Capability" Brown.
Amenities include outdoor tables, barbecues, fire pits, a lake, a Victorian plunge pool, and even a secret hidden door in the library.
Not so modern is the small glassed-in terrace that allows you a perfect view of the extraordinary grounds. Decorated in calming hues, this Georgian mansion has a decidedly romantic feel to it.
There's even a nearby lake that makes a perfect spot for yoga, picnics or sports in general. We think Marie Antoinette would've loved it!
Welsh Country Hall
Yes, it's slightly austere, but that just adds to its charm. With 14 bedrooms, this country house in North Wales country home today 20 or more comfortably. Built in 1876. This Airbnb sits on the River Dee, on some of the most glorious English countrysides.
You can use the front garden for croquet, as well as the zip line and swing set in the back.
We also highly recommend a visit to nearby Snowdonia Park which is known for having some of the best views in England.
If the weather is bad, be sure to use the stunning wood-paneled billiard room or take a soak in any of the claw-foot tubs available. Give in to the romance of this remarkable property.
Mansion with Pool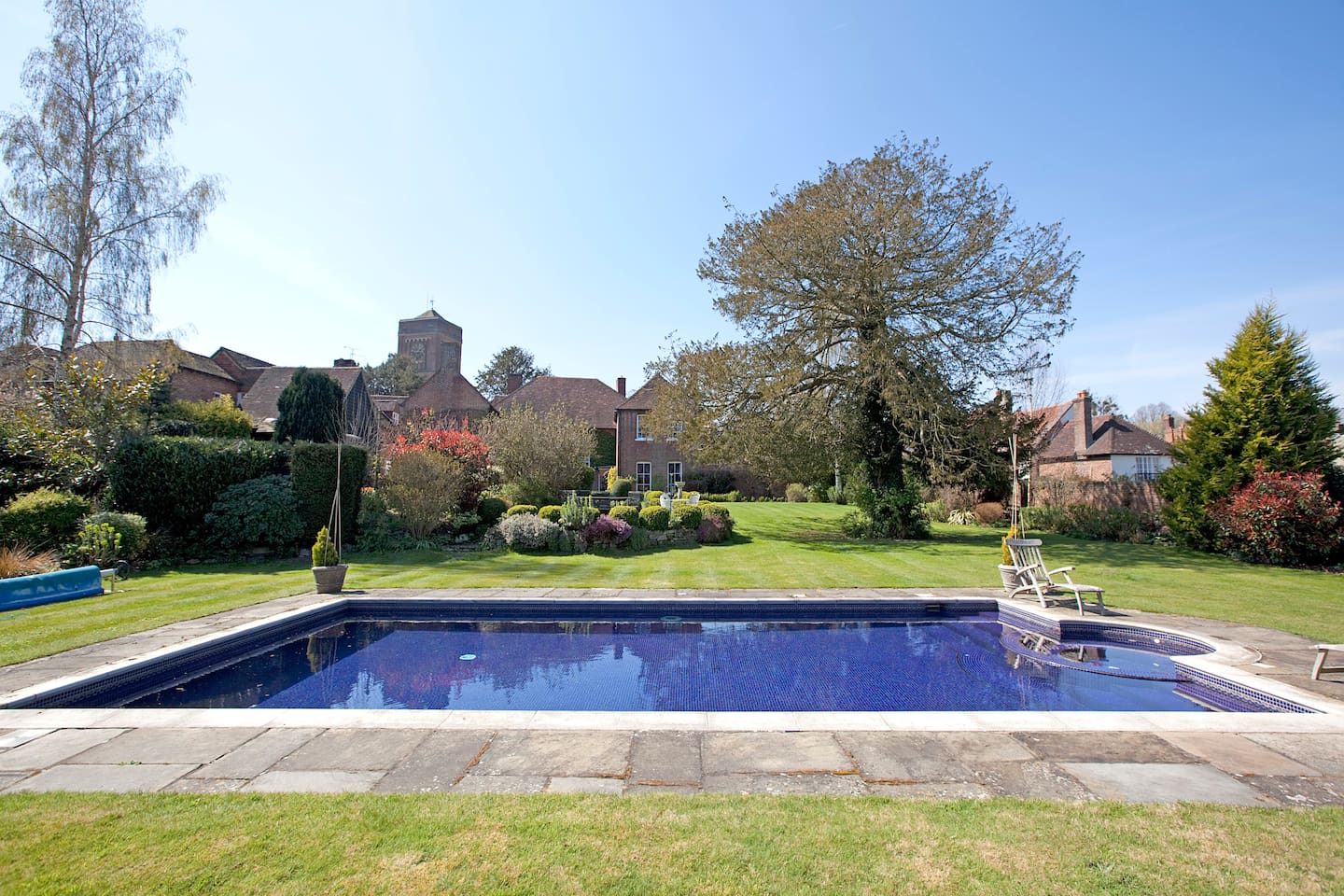 Owned by a "grumpy old Scot," this is clearly an Airbnb in which humor reigns supreme. Between the tartan carpet, the animal mural in the kitchen, it feels like you're getting to use Queen Victoria's playhouse.
With an eclectic mix of art and an indisputably beautiful outdoor setting, there is something here for everyone. With plenty of elbow room, there's a large garden, complete with swimming pool, living room, and more than enough parking.
A two-minute walk from the center of Petworth, it's also just a short walk to a local deer park.
Hampshire Country Farmhouse – stylish English properties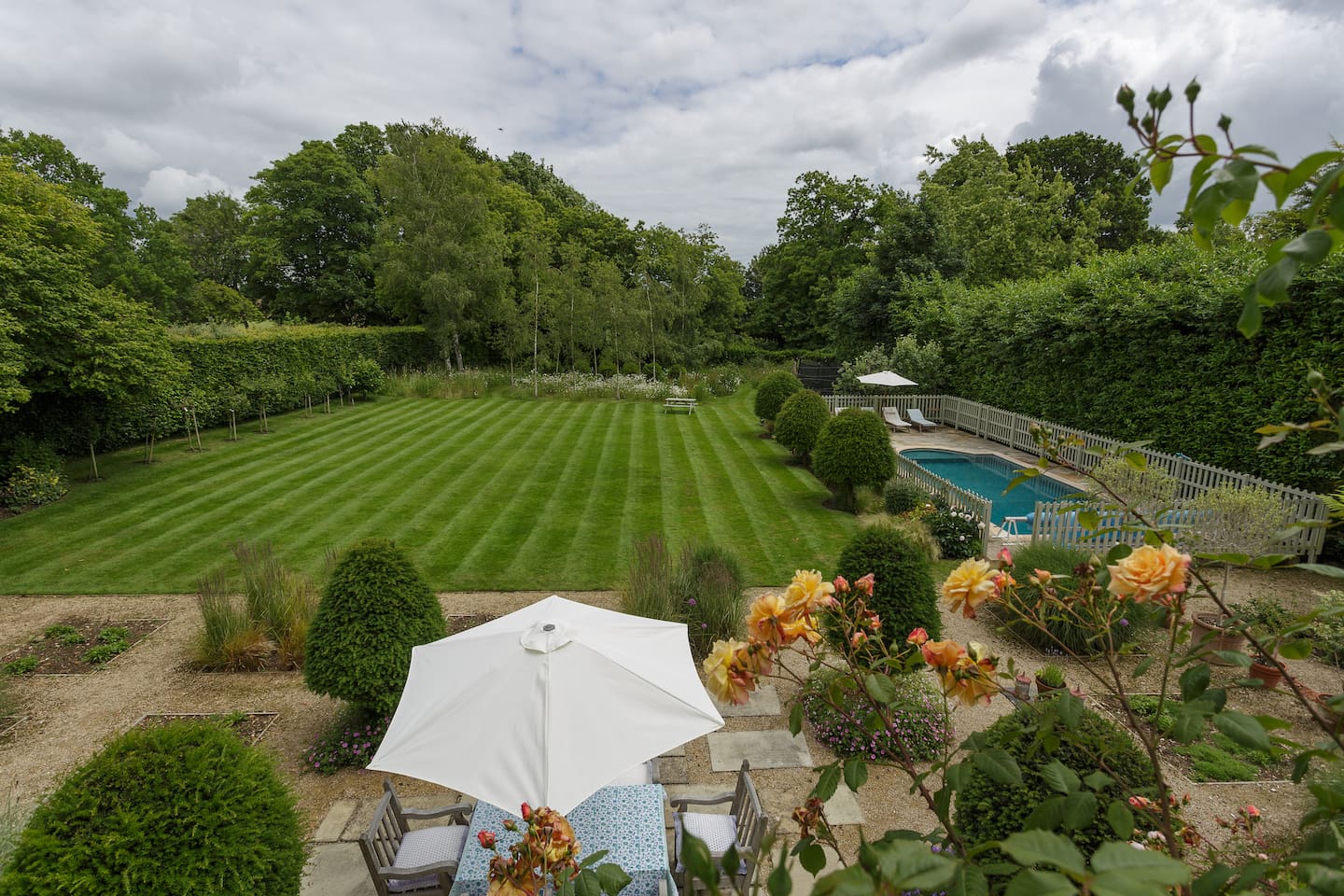 Beautifully renovated with elegant simplicity, this "Grade 2" listed property is a modern stunner. Yet it manages to retain all the charm of its original state. Known as The Farmhouse, this Airbnb has six bedrooms, three baths, and can sleep up to 12.
With a heated swimming pool and a lovely garden, this is a wonderful place to spend a summer holiday. An outdoor dining space, and open plan kitchen, offers dining options no matter what the weather. Meticulously decorated in farmhouse style to reflect the home's origins, this property offers stunning hardwood floors, modern lighting, and high ceilings with wood beams. Of course, there are all the usual amenities like a washer-dryer, cable TV, and of course, Wi-Fi. 
There are also lovely little touches like fresh flowers in every room and basic toiletries. It is one of the best English country properties on this list.
Art Lover's Sanctuary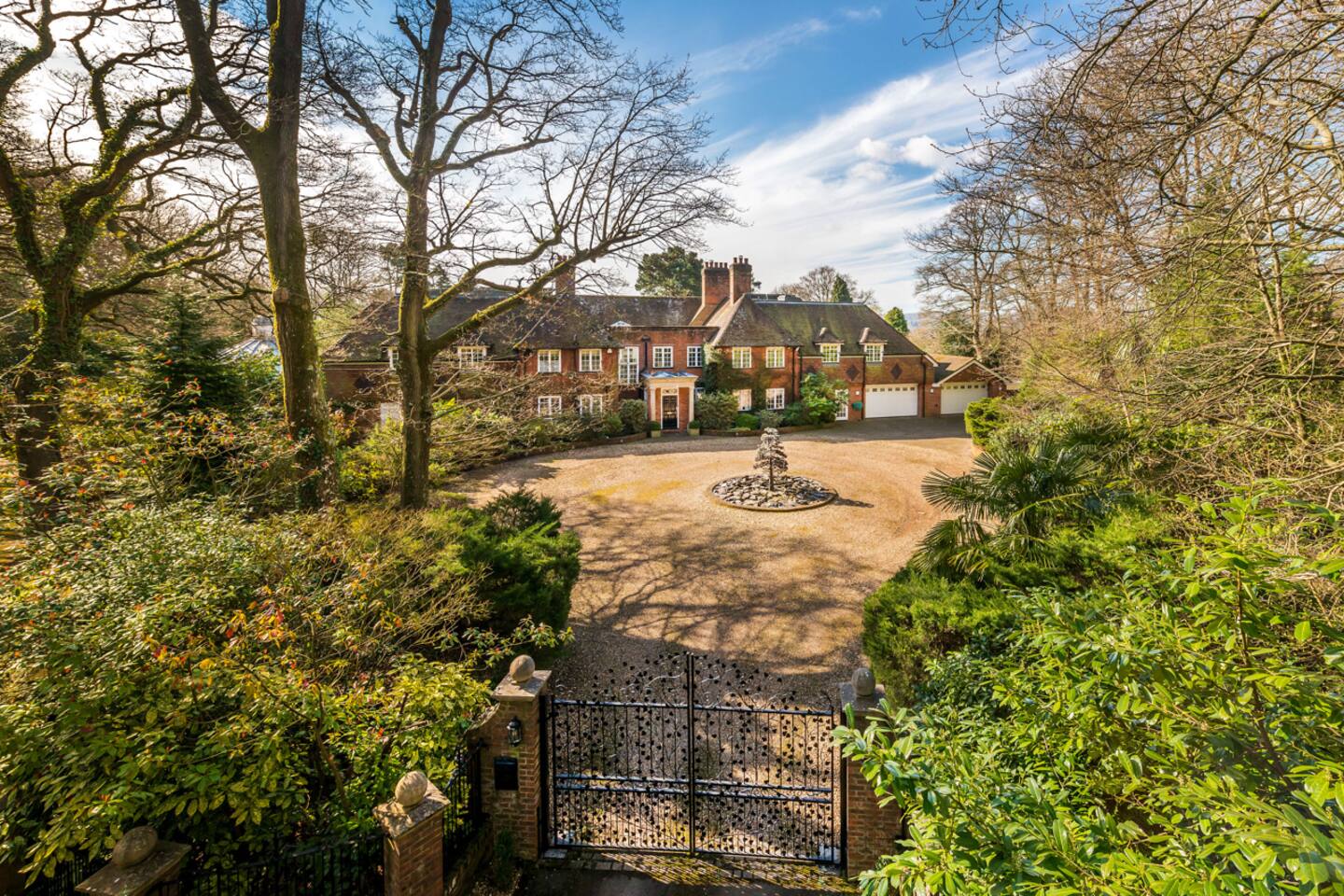 This remarkable house has some of the most incredible amenities we've ever seen in an Airbnb. Including an enormous screening room, a hot tub, a conservatory, bar, game room, with a full-size tennis table and pool table.
Outside there's a fire pit, a heated swimming pool, tennis court, and even treehouse. There's even a wine cellar under the kitchen that can be seen through a glass window on the kitchen floor. Sitting on over 6 ½ acres, this Airbnb offers more than enough space for entertaining.
Summary
Anyone of these English country properties will give you the full experience of staying in a manor home. If you feel like playing the Lord of the Manor then one of these homes will fit the bill perfectly. A truly British experience.