The Animals who began in Newcastle as the Kansas City Five were a major influence among R&B-based British bands in the early Sixties.
The original band included pianist Alan Price, drummer John Steel, singer Eric Burdon, Bryan "Chas" Chandler on bass, and guitarist Hilton Valentine.
Image Source: https://www.zani.co.uk/
The Animals came to the attention of Yardbirds manager Giorgio Gomelsky in 1964 and moved from Newcastle to London where they headlined at Gomelski's Crawdaddy Club.
Independent producer Mickie Most signed them to EMI's Columbia Gramophone label, where their first release was a bluesy version of the folk song "Baby Let Me Follow You Down," retitled "Baby Let Me Take You Home."
The Animals stayed with traditional folk music when they adapted "House of the Rising Sun."
It became their first big hit in mid-1964.
They returned to the recording studio that summer and released their third single, "I'm Crying," which rose to #8 on the British charts.
Image source:www.chroniclelive.co.uk
Over the next two years, The Animals knocked out several more hit records including "Don't Let Me Be Misunderstood" and "We've Gotta Get Out of This Place," along with a second album, Animal Tracks.
The combination of Alan Price's soulful keyboard riffs and Burdon's bassy vocals defined the sound.
Price left the band in May 1965, citing a fear of flying, though members of The Animals later attributed his departure to personal and creative differences.
The rest of the group was also having musical differences with Mickie Most, and by the end of 1965, The Animals moved to Decca Records.
Early the next year, their American label, MGM Records, compiled The Best of The Animals, which became their best-selling album in the U.S. Their final hit as a group was "Don't Bring Me Down."
Burdon re-formed the group as Eric Burdon and the New Animals, and the musical focus shifted from R&B to psychedelia, just in time for 1968's "Summer of Love."
In 1969, Burdon exited the group, joined a Los Angeles-based, Latin-influenced band called War, and later launched a solo act.
The modern-day Eric Burdon
The original Animals line-up of Burdon, Price, Valentine, Chandler, and Steel reunited for a benefit concert in their hometown of Newcastle in 1968, then for an album in 1977, titled "Before We Were So Rudely Interrupted."
The Animals reunited again in 1983 for a tour and to record an album, "Ark ."
Eric Burdon brought back the Animals one more time in 1998 as Eric Burdon and the New Animals.
He continues to perform today.
Where Are They Now?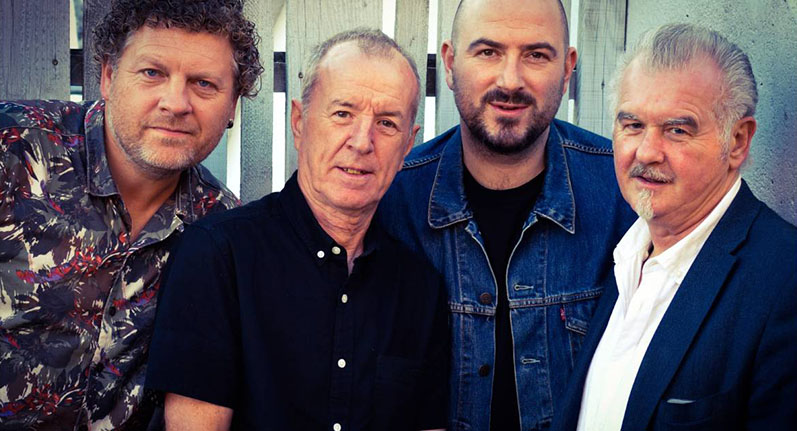 Image source: https://www.i94bar.com/interviews/john-steel-2
Eric Burdon records and tours on his own and with yet another version of Eric Burdon and the Animals.
In 2007 they toured as the headlining act of the "Hippiefest" line-up, produced and hosted by Country Joe McDonald.
On June 7, 2008, Burdon performed at the memorial service for Bo Diddley in Gainesville, FL.
Once again this summer he's touring with "Hippiefest."
Alan Price was part of three attempts to reunite The Animals in 1968, 1977, and 1983 as "Price and Fame" he also made several recordings with his friend, Georgie Fame.
For the past 20 years Price has continued to regularly tour the UK, both on his own, and sometimes in 60's revues with groups such as Manfred Mann, The Searchers, and The Hollies.
After the original Animals parted company, Hilton Valentine moved to California, recorded a solo album, returned to the UK, and over the years joined several Animals reunions.
Along with Eric Burdon, Chas Chandler, Alan Price, and John Steel, Valentine was inducted into the Rock and Roll Hall of Fame in 1994.
He released a new album It's Folk 'n' Skiffle, Mate! in 2004.
Valentine now lives in Connecticut.
After the Animals split up in late 1966, Chas Chandler managed Jimi Hendrix and helped form The Jimi Hendrix Experience.
He also produced their first two albums.
Chandler was also instrumental in introducing Hendrix to Eric Clapton.
It was through this introduction that Hendrix got a chance to play with Clapton and Cream on stage. Chandler then went on to manage and produce the English rock band Slade for twelve years, as well as Nick Drake.
During this time, Chandler bought and ran IBC Studios for four years and launched Barn Records.
Chandler died of a heart condition in Newcastle in 1996, days after performing his final solo show.
After the break-up, John Steel returned to Newcastle and became a businessman, while also working in former bandmate Chandler's management company.
Over the years, Steel has remained active as a part-time local drummer and has joined several Animal's reunion incarnations.
He has toured since 1993 as a drummer with variations of The Animals line-up including Hilton Valentine, Dave Rowberry, Zoot Money, and Mickey Gallagher.